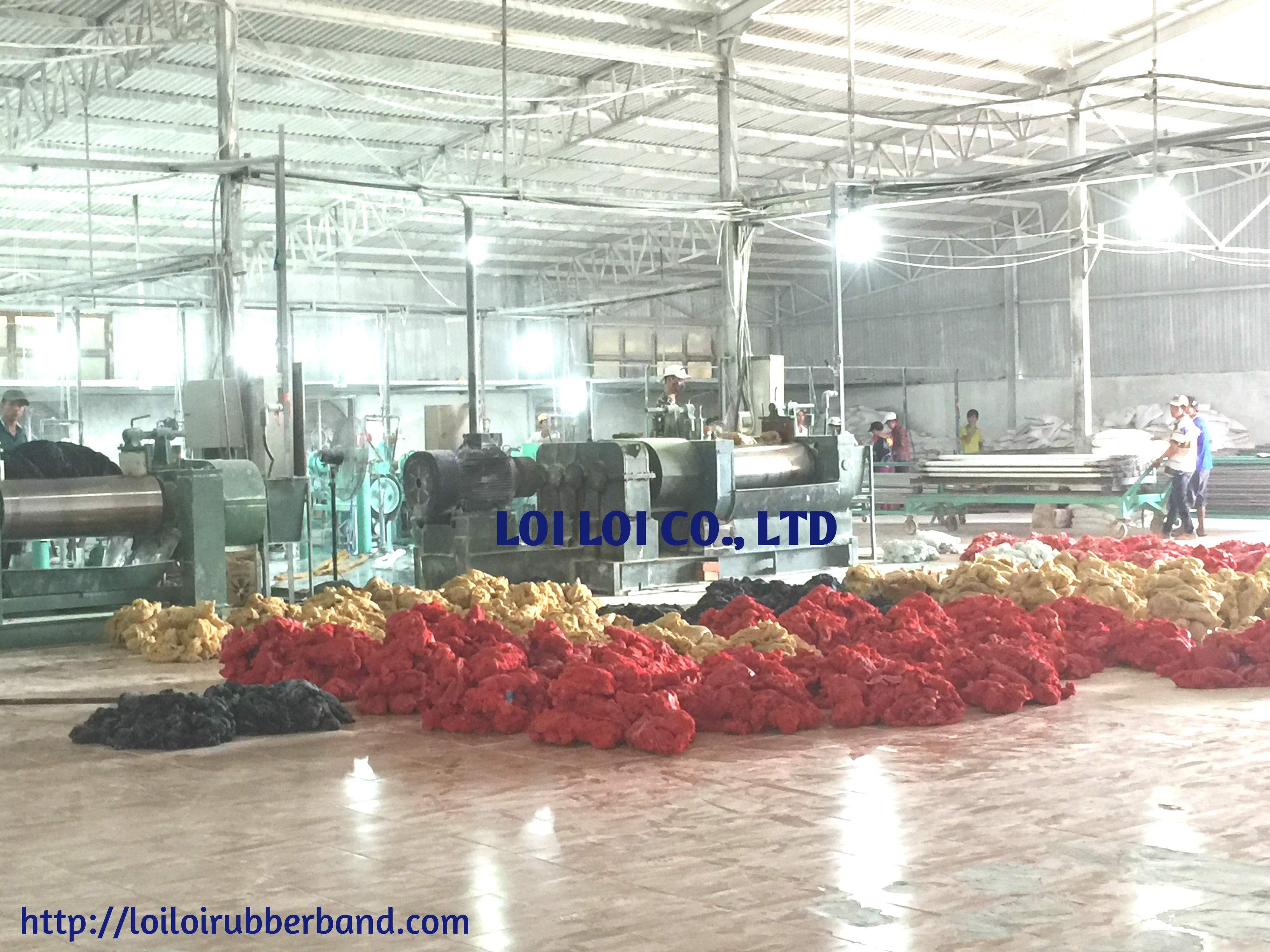 About Loi Loi
Loi Loi Co., Ltd. was established and developed since 1999. Our factory is located in an area more than 10,000 square meters in Hoa Binh Industrial Zone, Kon Tum Province, 600 km from Ho Chi Minh city distance and 60 km from Pleiku airport. There are many modern machines, equipments and experiment workers in our factory.
Our Factory is specialize in manufacturing and exporting all kinds of rubber band, rubber tubes which are made by natural rubber SVR3L, in many different sizes, colors, various type of designed bag according to customer's demand.
At the present, Loi Loi has exported to over 40 countries in all the continents and we are so proud to be one of the leading suppliers of rubber bands and tubes in Vietnam.
Our purpose is to expand the market to all over the world with the precept "Good Quality – Great Service", we are looking for customers from the countries: China, Indonesia, Malaysia, Philippines, Thailand, Singapore, Korea, Taiwan, India, Bangladesh, Pakistan, Japan, Australia, Dubai,Turkey, USA, Germany, Italy, Spain, Poland, Bulgaria, Hungary, Argentina, Canada, Brazil, Mexico, Peru, South Africa, Ghana, Ethiopia, Nigeria,…
Our products have high elastic and safe qualities standard for exporting. Rubber bands are in many sizes and colors, which are used for many purposes:
- Rubber band used for tie money, tie hair.
- Rubber band used in industry (used in gloves, machines...)
- Rubber band used in agriculture (tie fruit, tie flower, tie vegetables...)
- Rubber band used in packing, food and aquaculture....
- Rubber band used in office and households.....
- Packing: 0,5kg/ bag, 30kg/ bag, 50kg/ bag, or design the packing according to customer's requirements.
We hope that we can have a long-term business relationship.
Looking forward to receiving your inquiries and to working with you in time to come.
---------------------------------------------------------
Tri Nguyen ( James) - Business Director
Mobile / WhatsApp / WeChat: 0084-939668639
Skype: nguyen.huu.tri1
Email: loiloi@loiloirubberband.com ; james@loiloirubberband.com
----------------------------------------------------------
Jenny Tran (Ms.) - Sales Manager - Mobile / WhatsApp/WeChat: 0084-939669828
Email: jennytran@loiloirubberband.com
----------------------------------------------------------